Passionate Community Leaders with a Love for the Chico Community
Our Board of Directors
Driven individuals who volunteer their expertise and skills to ensure our center is the best it can be.
Contact them at: sacboard@stonewallchico.org
Board Chair - conner@stonewallchico.org
Conner (he/him) has been working with the Stonewall Alliance Center for many years. From facilitating multiple support groups here in the center, to assisting with the set up of Stonewall Alliance events, facilitating workshops for professionals, and being a supportive friend to many in the Chico Community, we are thrilled to have Conner as our Board Chair.
Treasurer, Board Member -
kathy@stonewallchico.org
Kathy (she/her) came from the San Francisco area, but has lived in Chico since 1995. Kathy is a Licensed Marriage and Family Therapist who works mostly with adolescents and their families, particularly LGBTQ+ adolescents and their families. Kathy volunteered for several years in the Stonewall Counseling Program, and you will always catch her at teen dances chaperoning and enjoying the energy of the younger members of our community. Because of her work in the surrounding rural communities and with LGBTQ+ youth from Chico and those communities, Kathy has a strong interest in expanding the work Stonewall does in rural communities and supporting them in the unique challenges they face. Kathy is naturally outgoing and a little silly, so when you see her, come on up and say hi. She loves hearing your ideas on how Stonewall can better serve the community. She also collects silly jokes. Her favorite joke - How many therapists does it take to change a light bulb? .... One, but the light bulb has to want to change!
Secretary, Board Member -
jack@stonewallchico.org
Jack (he/they) moved to Chico in 2008, to attend Butte College. While earning his bachelor's degree in sociology at CSU Chico Jack realized his passion for equity and serving all intersections of LGBTQ+ identity. Jack brings enthusiasm and a sincere desire to affect inclusivity in Chico's queer community which they credit for providing the safety and support that was necessary to discover and explore their trans masculine identity. By day Jack can be found providing trauma informed advocacy to survivors of intimate partner violence. During free time Jack enjoys engaging in various art projects, attending concerts, and spending quality time with his wife, friends, and cats.
Board Member -
charlene@stonewallchico.org
Charlene (she/ her) is a licensed marriage and family therapist who has been licensed for over ten years. In Butte County, Charlene has worked for the Office of Education and Behavioral Health. Currently, she is a clinical supervisor with the Butte County Behavioral Health, Crisis Services Unit. Charlene is dedicated to supporting the LGBTQ+ community, the Stonewall Alliance Center, and preventing suicide through interpersonal connection.
Board Member -
tiffani@stonewallchico.org
Tiffani (she/her) and her family returned to her hometown of Chico in 2012, after spending well over a decade living in Canada and New Zealand. They are enjoying everything this beautiful area has to offer, most especially the people and the park! With many friends and family connections to the LGBTQ+ community, and a passion for social justice, Tiffani wants to put her Social Work skills to work for Stonewall, and is honored to serve on the Board of Directors.
Board Member -
hannah@stonewallchico.org
Hannah (she/her) hails from Paradise, CA but has been living in Chico since 2016. She works at Chico Animal Shelter as the Volunteer Coordinator. There she not only oversees the volunteers and interns, but also works on behavior modification with adoptable dogs to get them into great homes. In her free time she enjoys tending to her garden, puzzling, and spending time with her dog and two cats (Sam, Milo, and Flour). Hannah has volunteered with various local nonprofits since she was a teenager and is passionate about giving back to the community. She is excited to serve on the Board and hopes to work towards strengthening Stonewall's human and financial resources.
OUR STAFF
Meet the individuals who make sure our Stonewall Alliance Center is running smoothly every day. Whenever there are events being planned, educational workshops occurring, or providing an inclusive space for all, these individuals are getting it done!
Executive Director - celeste@stonewallchico.org
Celeste (she/her) takes a vision and makes it a reality through sound strategic planning and development. Celeste graduated from Chico State in 1999 where she was the president of the campus PRIDE group and the director of the Women's Center (currently named "Gender and Sexuality Equity Center"). While the director, she started the Annual Women's Conference which is still going strong. Celeste has over 20 years of social work experience and over 15 years of supervisor/management experience. Over the past 10 years, Celeste has worked for Butte County Behavioral Health in different roles - crisis counselor, supervisor and administrative analyst. During her time there, she was asked to coordinate the crisis counseling at the Disaster Recovery Center after the Camp Fire. On the side, Celeste has been doing event planning and marketing with a focus on raising funds for schools and non-profits. Celeste brings her skills and experience to ensure Stonewall Alliance's success for the North State.
Counseling Coordinator
Charlee (she/her) lived in Northern California her entire life. She is a member of The Mechoopda Indian Tribe of Chico Rancheria. Charlee received my Bachelor's and Masters of Social Work from Chico State University and attained her Pupil Personnel Services Credential from San Francisco State. Charlee has been working in the mental health field for 13 years and specialize in providing Dialectical Behavior Therapy. Charlee is honored to be providing the clinical supervision here at Stonewall and is so excited to see the counseling program continue to provide such a needed service in this area. Outside of Stonewall, Charlee loves to be outside, working in the dirt, hiking and swimming in upper park, watching Marvel movies, and going to concerts.
Events and Communications Coordinator - alyssa@stonewallchico.org
Alyssa (she/her) is a longtime Chico local who loves this town. Her degree is in Organizational Communications, and she has a background in a variety of nonprofit work, event production, and community organizing experience. Alyssa leads the coordination of all Stonewall events including Chico Pride, Trans* Week, Coming Out For Art and more. She also manages the public relations program and leads major communications such as the monthly newsletter in addition to co-coordinating many of our interns and volunteers.
Advocacy and Education Coordinator - marin@stonewallchico.org
Marin Hambley (they/them) is a recent addition to Chico. They identify as white, queer, trans and nonbinary. At Stonewall, they provide direct advocacy and resources for local LGBTQ+ people, collaborate and coordinate with the intern and volunteer teams, and facilitate workshops and trainings for service providers, community members, and professionals.
Center Coordinator - silas@stonewallchico.org
Silas (they/them) is completing their psychology master's thesis while also keeping their passion for the Stonewall Center alive. They are an Asian american child of immigrants who is understanding their trans* identity more everyday. In their work for the center Silas manages the office, website, and data entry. They want to create a welcoming environment where every visitor can be accepted and their inquiries properly addressed.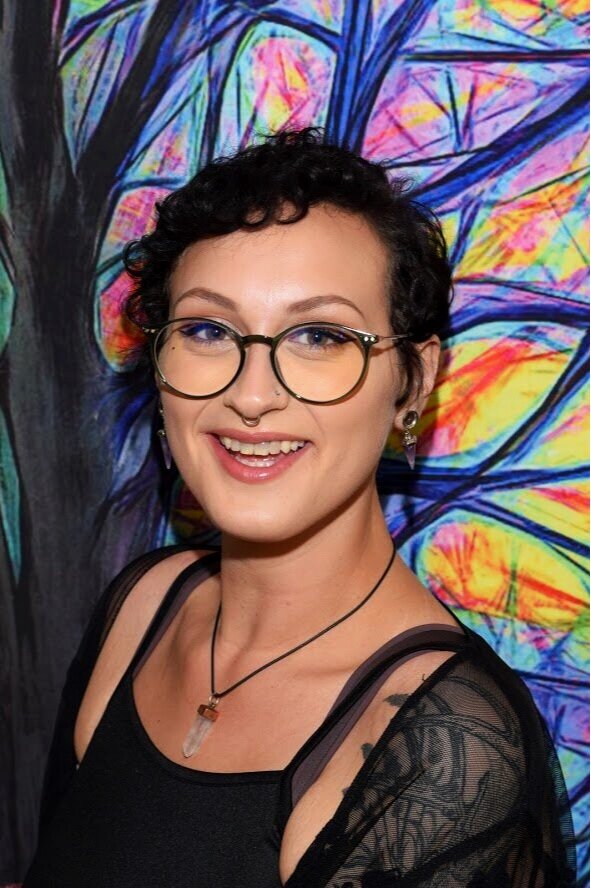 Assistant Pride & Community Outreach Coordinator - sandii@stonewallchico.org
Sandii Buckman (she/they) was born and raised in Chico, but is finally at home with Stonewall Alliance Center. They are a queer, non-binary, Indigenous american who has dedicated their life's work to understanding the structures of power and how those of us affected can organize, mobilize and enact lasting change. Sandii is receiving her BA in Journalism & Public Relations at Chico State. At Stonewall, Sandii has been tasked with helping coordinate the logistics and public relations for Chico Pride 2019, as well as facilitate community outreach and communications.